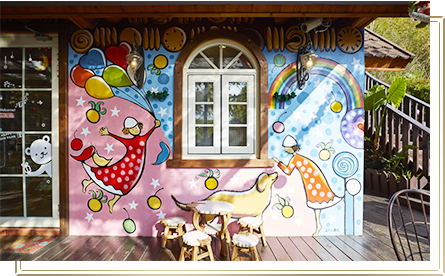 Literally translated as "Little Girl" from Spanish (Cona's), Cona's Chocolate is founded in a setting suitable for chocolate making in ching jing where the climate is similar to that of Europe.
Cona's is a little girl who never forgets about chocolate.
Out of love and care for children as a parent, we select excellent food ingredients from every corner of the world and devote a great amount of time and effort in R&D and our manufacturing process to create the most natural and delicious chocolate.
Create the best chocolate!
- Cona's Chocolate -
With passionate attitude and creative design, Cona's master chef combines chocolate with different kinds of food ingredients to strive for a perfect balance between aromatic, sweet, bitter, and sour tastes.
Our master chef insists on providing our customers with chocolates full of rich and multilayered texture.
In order to enhance professional culinarily skills and make chocolates of high quality, Cona's master chef regularly travels abroad in search of continuing education to catch up with the world's latest trend.
With delicious chocolate, Cona's insists on stirring customer's childhood memories and the most primitive desires.